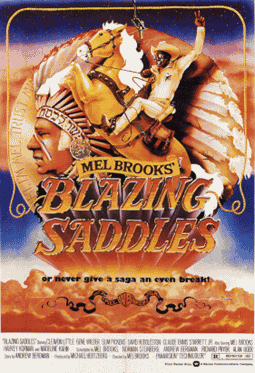 Tombstone's Western Film Festival
I've seen my share of western films, mostly while I was growing up. Like most of America, after
Blazing Saddles
, I had no interest in westerns any more. But I do love local film festivals, and who knows, maybe next year I'll check out
Tombstone's contribution
.
How To Get To Sesame Street From Israel
An amazing story of hope. It turns out that there is a joint Israel-Palestine production of
Sesame Street
, but in order to translate our benign children's program to that culture, there are a few unexpected twists. But no one is giving up. What kind of a world doesn't have room for Sesame Street? Thankfully, we don't have to find out -- yet. I found the reality of this article quite illuminating.
Staying Cool
As a lifelong renter, I have always used the major household appliances provided to me with the property. That is, until I moved into my current home two years ago and had to purchase a refrigerator, washer and dryer. It was great fun looking through all of the models and deciding what options were "must have" and which were not necessary. In the end, I selected a fridge with an icemaker, and boy-o-boy do I love it! And now I understand how it works. And speaking of cool, doesn't this
recipe for sangria
look wonderful?
Going The Way of the Railroads
I've recently had a couple of rounds of tough time with
Qwest
, my local phone company. I've also had fits with
MSN
, who is my
DSL service provider
, and discovered that there really aren't any good options if I want to change my service. I've also considered switching to
broadband
, and maybe going to
digital telephone
, too. But after reading this article about the coming bad news in the cable industry, perhaps it is best not to put all of my business eggs in the same basket. Since I need my telecom services for my home office, perhaps staying put is the best strategy for now. At least that's what I read between the lines of the words from James Chanos, the guy who broke the
Enron accounting fiasco
, who is now writing about cable.
Internet People Searching
I'm always interested in finding new things to research on the Internet. Thanks to this article, I've been able to add a list of search engines and databases to my favorites, and add a few new tricks up my sleeve. (ouch)